August 28, 2022 - 15:00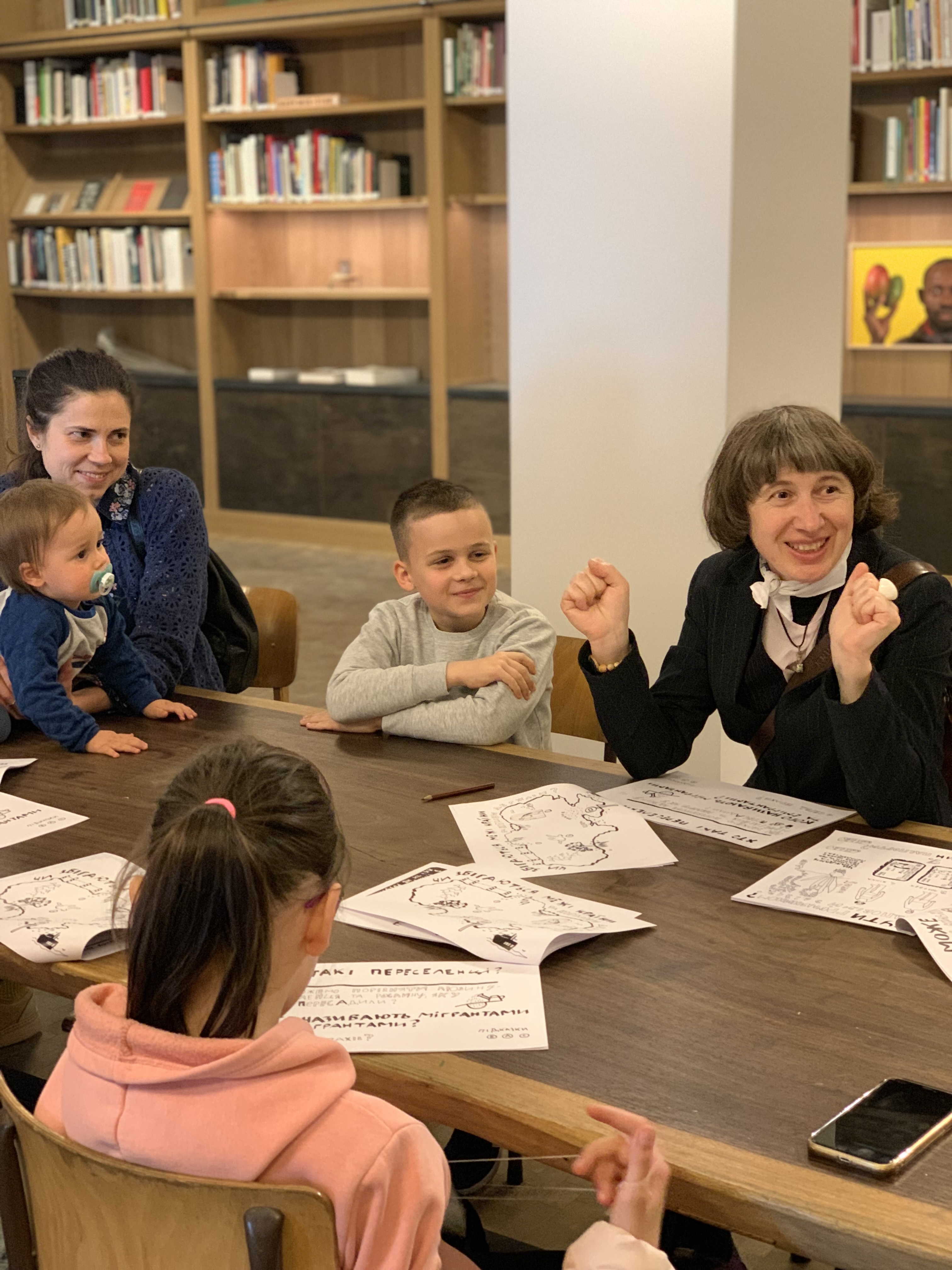 Alevtina Kahidze is a Ukrainian artist, performer, curator, gardener. Starting from 2018, she acts as the UN Tolerance Ambassador in Ukraine; awarded the Kazimir Malevich Artist Prize in 2008 by the Polish Institute in Ukraine.
Participant of international and Ukrainian artistic exhibition projects, including the European Biennial of Contemporary Art Manifesta 10 during the time of annexation of the Crimea by the Russian Federation, 7th Berlin Biennale which was focused on politics, Moroccan Pavilion at the 54th Venice Biennale "Working for Change". Since 2009, lives and works in Muzychi village, Ukraine. She is the participant of the current exhibition "Imagine Ukraine" and her works are in the collection of M HKA.
Alevtina has experience of working with kids and for a long time works with the issue of patriotism with children.
Tijdens haar workshop van zondag 28 augustus vertelt Alevtina Kakhidze over Mangold Five Colours, haar archief van kunstprojecten en zijn mythologie, en zal ze ons een selectie van projecten uit dat archief tonen. Ook zal ze een intiem verhaal vertellen over hoe ze zich zorgen maakte dat ze dit archief van 20 jaar kunstpraktijk tijdens de Russisch-Oekraïense oorlog zou verliezen, een oorlog die nog steeds voortduurt. Kakhidze keek naar planten als een voorbeeld dat mensen kunnen volgen, en nam van elk project een exemplaar om het buiten Oekraïne te brengen – en de planten zo in de vorm van zgn. propagulen (knoppen of zaden bv.) te vermenigvuldigen. Aan het einde van de ontmoeting met de kunstenares zal de plant Mangold 5 Colours (de naam maakt deel uit van de mythologie van het archief) samen met de deelnemers worden geplant.
---
Alevtina Kahidze establishes dialogue in the language of art and discusses the following questions:
Do stateless plants and animals suffer?
Do the country's borders and state borders coincide?
Is the one who does not love his country also a citizen?
Can we compare an immigrant tree and an immigrant person?
Who is the most important in the country - the president or the man?
When we don't understand the picture, what do we do?
What is your country's dream? And its plans?
What is the difference between a dream and a plan?
---
When ? August 28, 2022 - 15:00
Where ? M HKA, Leuvenstraat 32, 2000 Antwerp